The Progressive Group have been undertaking tiling works since 1989, following the integration of Harbour & Baker, a tiling company originally established over 50 years ago.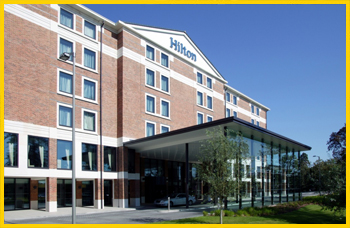 Hilton Heathrow
5,500m2 tiling to Reception, Restaurants, Leisure Area and Kitchens
With a reputation for quality and craftsmanship, Progressive's tiling division has kept pace with modem methods and technology and is able to undertake large scale residential, industrial and commercial projects, such as airport terminals, leisure centres and shopping malls. The tiling division's position is strengthened by the ability to call on the wider services of The Progressive Group's facilities to provide complementary operations such as screeding, plastering and seamless wall and floor systems. This gives the company a unique advantage as a one-stop sub-contractor.
As with other companies in the Group, Progressive Limited's tiling division works with the client to form a partnership, much the best method of ensuring that projects are completed on time and within budget.
Progressive Limited's experience in tiling extends to all types and includes the following specialities:
Mosaic
Ceramic
Agglomerate
Marble
Stone
Progressive Limited, Rooks Nest, Godstone, Surrey, RH9 8BY, England
Tel: +44 (0)1883 742728
Fax: +44 (0)1883 743838
Email: pl@progressivegroup.co.uk